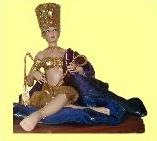 Scroll down for details on the following courses:

Doll Making Sessions
Beginners Classes
Dolls House Family
Mito
Many Aspects of BJD Making
Eye Making Course
Residential Course
and much more..............


For all course dates and times please request a copy of my Year Planner via e-mail on the Enquiries & Links page.

Year Planner

DOLL COTTAGE STUDIO

PORCELAIN DOLL MAKING SESSIONS


Weekly Timetable

It is adviseable to book yourself
a place as spaces are limited.
Please contact me for available dates on the 'Enquiries & Links' page.

Monday: 10:00 am - 5:00 pm (UKDAC)
Tuesday: 9:30 am - 12:30 pm (Regular session including 'Dolls for Delight')
7:00 pm - 10:00 pm " " " " " "
Wednesday: 9:30 am - 12:30 pm " " " " " "
Thursday: 9:30 am - 12:30 pm " " " " " "
7:00 pm - 10:00 pm (Beginners)
Friday: 9:30 - 12:30 (One on One)


Courses are held at different times to sessions, sessions are for those that wish to come on a regular basis.

Beginners courses will be held on a Thursday Evening 7 - 10 pm, and will be in groups of 4. Please contact me for the next start date:Enquiries & Links

The "Dolls for Delight" programme will take place in the regular Tuesday to Thursday Sessions including Tuesday evening.

All other courses please contact me for available dates stating which course/s you are interested in :Enquiries & Links

Are you new to porcelain doll making?

Take a look at my "Dolls for Delight" programme.

I will guide you through the steps to complete four dolls, each teaching new skills and developing you as the doll maker.

You will start with My Princess - a delightful sleeping baby - beginning with cleaning greenware, basic painting skills and doll assembly.

The second doll Amber - a young pixie-like child with a dream-like expression continuing with what you have already learned and introduces eye cutting and more painting skills.

The third doll Eve - is an all porcelain beauty - incorporating all the skills you have learned as well as more advanced painting skills.

And finally Emily - will be your last piece taking you to the level where all your painting skills will have built a strong foundation in doll making giving you the confidence to go on and make all the other dolls you want.

At the end of this course you will be awarded your very own certificate of accomplishment.

In addition to the above, all day or two and three day seminars may be held to make one off special editions and teach specialist skills such as dimensional eye painting, wig making, hat and shoe making.

For those that would like private one-on-one tuition please contact me (Enquiries & Links) . This can be arranged as a full course or just for a couple of hours to help with any issues you may be having - please be aware that one-on-one tuition is more expensive than the usual session prices. Booking required.


4 Class Pass (receive 20% off when you book and pay for 4 Sessions in advance)

Please be aware of session availability, please give a minimum of 24hrs notice when cancelling a session.

Additional materials in general not included are: Greenware, Bodies, Wigs, Eyes, Clothing - (with the exception of greenware where individual greenware prices apply all additional materials can be made within a low budget and you can learn some additional crafts such as wig making and shoe making along the way)...

Inclusive materials: Firing and General Paint supplies

Greenware prices range from £10 for a small doll to £40 for the larger modern dolls.
Mito greenware will be priced separately, this is a complicated mould. I also have a few large Antique moulds which will also be priced separately.

Payment is required in advance at the time of booking. For information on course prices, please choose the course you wish to attend, check availability and price via e-mail on the Enquiries & Links page.


Join me on a Thurdsay evening (pre-booking required) for a 4 to 5 Week beginners course where you will learn by starting with the soft fired cleaning method to prepare your greenware doll ready to be fired into porcelain. Progress to painting and assembling your doll ready to take home. Choose from 2 dolls. To book and find out more please contact me on the 'Enquiries & Links' page.

HAVE YOU MADE DOLLS BEFORE?

Would you like to again? Come along and use the studio, learn new practices.

Do you have your own moulds that you would like to pour or for me to pour for you? This can be arranged.

Doll Cottage is the place to come for every aspect of doll making and a place to learn from each other.


Mito & New BJDs course is now here - this course (non-residential) lasts 6 weeks (1 morning a week) starting in August 2015 (not recommended for beginners). If you are a beginner I recommend you start with my 'Beginners' or 'Dolls for Delight' programme. This way you will have a thorough grounding in many aspects of doll making.

Due to the original artists copyrights you will only be able to make Mito on courses and will not be able to purchase this doll commercially from anyone other than the original artist.

Feel free to contact me via the 'Enquiries & Links' page.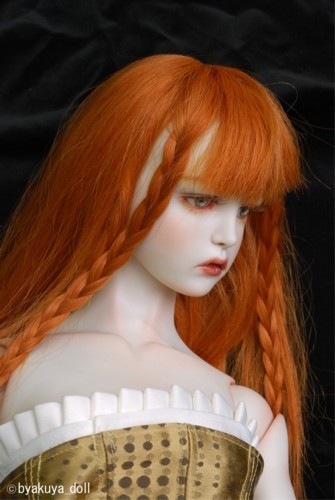 Mito - View 1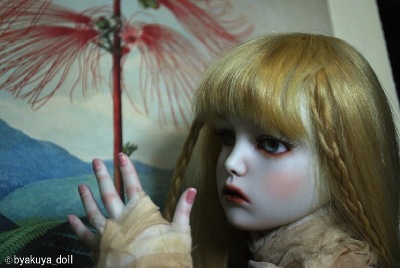 Mito - View 2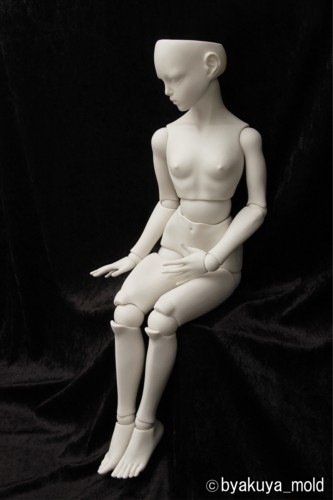 Mito - View 3


MANY ASPECTS OF BALL JOINTED DOLL MAKING

Porcelain ball jointed dolls have the most beautiful quality about them. As well as Mito I now have more ball jointed doll moulds ready to use in the studio.

Contact me on my Enquiries & Links page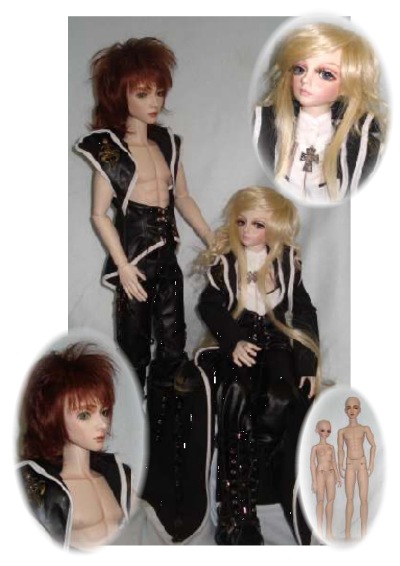 Introducing the latest Ball Jointed doll Moulds available to make in the Studio. Different options to choose from sizes 18 - 20 inches.

EYE MAKING COURSE

It is said that; 'eyes are the windows to the soul', and I agree, which is why for me the eyes are incredibly important.

There are many kinds of eyes available to the doll maker, hand blown glass, crystal glass, glass and plastic to name a few. A popular technique with doll makers is to hand paint the eyes, this can be fantastic, take a look at the Doll Artist 'Dianna Effner's' dolls on my 'Doll Artist' pages for prime examples.

I am developing my own hand painted porcelain eyes for my dolls, there will be a course in the near future to show you how this can be done, there will be two types of eye, fully hand painted and my own personal 'decal designs' for application to the porcelain eye. Please check back for dates.

My first set of eye decals are back, the quality is exellent but they are a little dark, so I am working on some changes, that I think will stand out more. Will post pictures soon.

Here are some images of the iris decals I am designing, these iris will be available in 6 different sizes 6, 7, 8, 9, 10 & 11mm. The dimensions relate to the diameter of the iris and not the diameter of the eye. The beauty of these iris is that they can be fired onto your porcelain and you can paint additional detail over the top should you wish to. Trim each iris to fit into your dolls eye space or apply onto a porcelain eye. Full instructions will be available. These decals are made to be fired in a kiln.
Ready made eyes will be available to order at a later date.

I have been working with the decals recently and am very pleased with the results.
I think you will be too.
Will post pictures soon.


Learn to make a wig in natural fibres such as silk, wool and mohair for your doll. Clean, dye and weft your fibres in the first half of the course and create your wig in the second half of the course, a very satisfying craft.


Learn to measure and take a pattern from your dolls foot and design a tailor made pair of shoes


Correct me if I'm wrong, but I can never understand dolls house enthusiasts who spend a fortune on their dolls house and its furniture and then put cheap unattractive dolls inside. For those of you that like to work in minature you will be hard-pushed to find a better quality more beautiful dolls house family.

In 1/12 scale, each doll is made completely in porcelain and fully poseable with changeable limbs that pop-in-and-out easily. Please do not mistake these for the mass produced dolls you see and buy elsewhere. These are a beautiful set and will provide you with hours of delight in your own dolls house or miniature setting.

Using the wet cleaning method I will teach you to prepare your greenware family ready to fire into porcelain, once fired you will then progress to painting and bringing your family to life.
These are high quality dolls that will be the envy of many of your dolls house collector friends.
The course will take place over a 4 week period, 1 session a week, 3 hours a session. Group and individual bookings taken.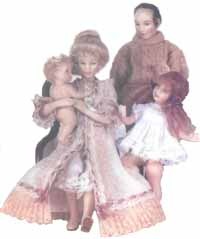 For more images of the dolls house dolls please go to the Doll Artists page.

I have not included this family in the year planner, if you belong to a dolls house group and are interested in booking a set of group sessions please contact me via the Enquiries & Links page for course details and I will send you a copy of the brochure.

Come and make your own Ball Jointed Doll. I will guide you every step of the way.

These courses will be exclusive to small groups of 2 - 4 people who wish to come away together and learn the art of doll-making.

Complete your own doll ready to take home at the end of your stay.

Come and relax in the beautiful suite for up-to 4 people in our Tudor Farm House set in the beautiful countryside of the borders of Surrey and Sussex.

Arrive the day before the start of the course and spend the evening in our lovely Tudor Farm House, enjoy a delicious home cooked meal ready to start completely refreshed the next day.

The continuing days will be spent on a specially tailored course to create a complete doll ready for you to take home.

A visit to our local world renowned 'Denbies' Vinyard will be inclucded during your stay and on the last night we will take you to a popular local restaurant for a specially prepared meal.

The last morning have a tasty breakfast to set you up for your journey home.

Breakfast, Lunch, Dinner and refreshments provided throughout your stay.

For further details please contact me through Enquiries & Links I will send you brochures (via e-mail) of the courses on offer.

All Courses (To return to the top of this page please press here).

To go to Enquiries & Links please press here.